Thank you for your interest in the College Ambassador Program!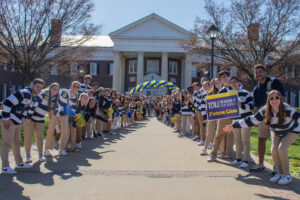 The College Ambassador Program has been designed to create a highly selective organization; members represent the highest caliber of students at The College of New Jersey.
The requirements to apply for this year's application cycle include:
–Freshmen, Sophomore, and Transfer Students
-Must be in good academic standing with The College (maintain at least a 2.5 GPA)
-Must be in good disciplinary standing with The College
Applications are Now Live!
Click here for the application: https://connect.tcnj.edu/register/?id=3dffd6d1-ae86-4d3c-992a-a3d93014b422
The application will close on Saturday, September 30th, 2023 at 11:59 PM
Important Links + Information
FERPA Release Form (Must like College Ambassador Program as the authorized recipient; email completed form to ambssdrs@tcnj.edu)
Professional Reference Form Link

Link for Zoom information session on September 17th at 5 p.m.
Ambassador information session presentation
Note: If your professional reference chooses to write a letter of recommendation as well, they can be sent to the Ambassador Coordinator Stephanie Iacoviello (iacovies@tcnj.edu) no later than November 1st, 2023